The Epping Forest Transport Action Group (EFTAG), which campaigns for better public transport and safer streets in Epping Forest, has launched a legal challenge against Essex County Council's decision to withdraw the evening 250 and 251 bus services from Waltham Cross to Loughton and Debden.
Dave Plummer, EFTAG's lead bus campaigner, is taking the action on behalf of the group. He said,
'The loss of the evening 250 and 251 bus services has been a real blow to commuters, carers, young people and others who relied on the routes to get them home from work and social activities. Many people said that they regularly travelled without being given a ticket, artificially reducing the passenger numbers reported to the council and increasing the amount that the council thought they were subsidising each journey by. Our own research has shown that at least another 10 journeys were made per day. We pointed the problems out to Essex County Council and they were raised by many people who took part in this summer's consultation – the very first response mentions the amount of people travelling without tickets – but the services were cut anyway.'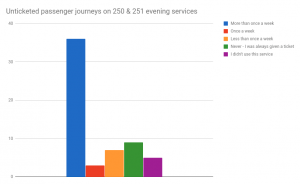 'I'm extremely grateful to everybody who took part in our survey, which has given us the data to back up that part of our challenge. We're also challenging the County Council on the quality of their Equality Impact Assessments and the lack of looking at alternatives.'
The case has been taken on by Bindmans Solicitors who hope to reach an agreement with Essex County Council before the judicial review goes ahead.
Dave, who is also Unite Community Essex Branch Secretary, representing unwaged people across Essex, added,
'The impact on carers, both paid and unpaid, and young people working, or trying to find work, in hospitality and warehouses is particularly noteable and seems to have been ignored by Essex County Council. I hope that the Council will pay heed to the points we've raised and subsidise at least one late evening bus service without us having to go through a time consuming and costly judical review.'
Legal documents and background to the campaign are on the Epping Forest Transport Action Group website here: eftag.org.uk/250251
For further information please contact Dave Plummer on 07875 549440
This is the letter Bindman's sent to the County Council: