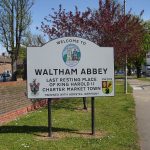 Essex County Council are proposing 17 new cycling schemes for Waltham Abbey in their draft Cycling Action Plan. There's some stuff you'll like – and some proposals that might not help much at all.
We'd like your help in sending feedback, so that the end result actually supports the council's Cycling Strategy: to provide "Continental standard cycling facilities" so that "residents have the opportunities needed to enjoy a healthy life".
Only got 5 minutes?
Drop us an email with the top thing that makes cycling difficult or dangerous for you and your family in Waltham Abbey and the surrounding area. We're on cycling@eftag.org.uk.
Can you spare a little longer?
We've listed all the proposals on our Cyclescape discussion board. Each proposal is listed as an 'issue' and accompanied by a map and the council's description of what they want to build. Join (or start!) the discussion thread about each issue, and we'll feed back your ideas to the council in a few weeks' time.
And if there's a junction that needs to be made safe for cycling, and the council aren't proposing to do anything about it, please do create a new issue. We'll make sure the council hear about it.