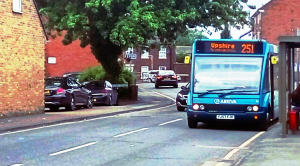 Epping Forest Transport Action Group (EFTAG) has organised a lunchtime rally for Monday 3rd July to launch Catch the Bus Week and to raise awareness of the proposed loss of evening bus services between Waltham Cross to Loughton and Hammond Street to Upshire.
If the 250 and 251 services are lost there will be no buses through Waltham Abbey after 7.30pm, effectively trapping non-motorists in the town and preventing others from coming in.
The rally has been organised in conjunction with the Campaign for Better Transport, who will be on hand to talk about Catch the Bus Week, which runs from 3rd to 9th July.
Dave Plummer, who's organised the rally for Epping Forest Transport Action Group, said,
'We hope that plenty of people can come along to the rally to find out more about local service cuts and get involved in Catch the Bus Week. The main reason given for cutting bus services is that they are under-used. However, we know that for the people who do use them they are essential, providing access to work, education and a social life. They form an important part of our local economy and we need more, not fewer, services which are affordable, reliable and frequent.'
Notes for editors:
The rally will be held in Waltham Abbey Market Square on Monday 3rd July 2017, 12.30 – 1.30pm.
Cllr Ricki Gadsby, Waltham Abbey's County Councillor, has been invited to attend.
Links to the Essex County Council 250 & 251 consultation and a petition to save them are on EFTAG's website: http://eftag.org.uk/250251
Catch the Bus Week is an annual event to encourage bus use: http://www.catchthebusweek.co.uk/get-involved