EFTAG looked at the Epping Forest Cycling Action Plan (PDF) published by Essex County Council and evaluated the numerous routes it proposed. We set ourselves four criteria for choosing the routes to prioritise. These were routes with:
Close proximity to schools;
Close proximity to transport hubs;
Close proximity to shops and facilities; or that
Links between all of the above.
From this we selected a priority network of routes which offer excellent interconnection and utility as a network, transforming the cycleability of Loughton, Debden, Theydon Bois, Buckhurst Hill, and Chigwell, and encouraging cycling as a mode of transport between these settlements – not merely within them.
Each route offers significant impact on its own, improving walkability and cyclability of its route, and improving wheelchair accessibility too. As a network, however, they'd be a substantial move towards a future where the people of Epping Forest are far less reliant on the car than they are today.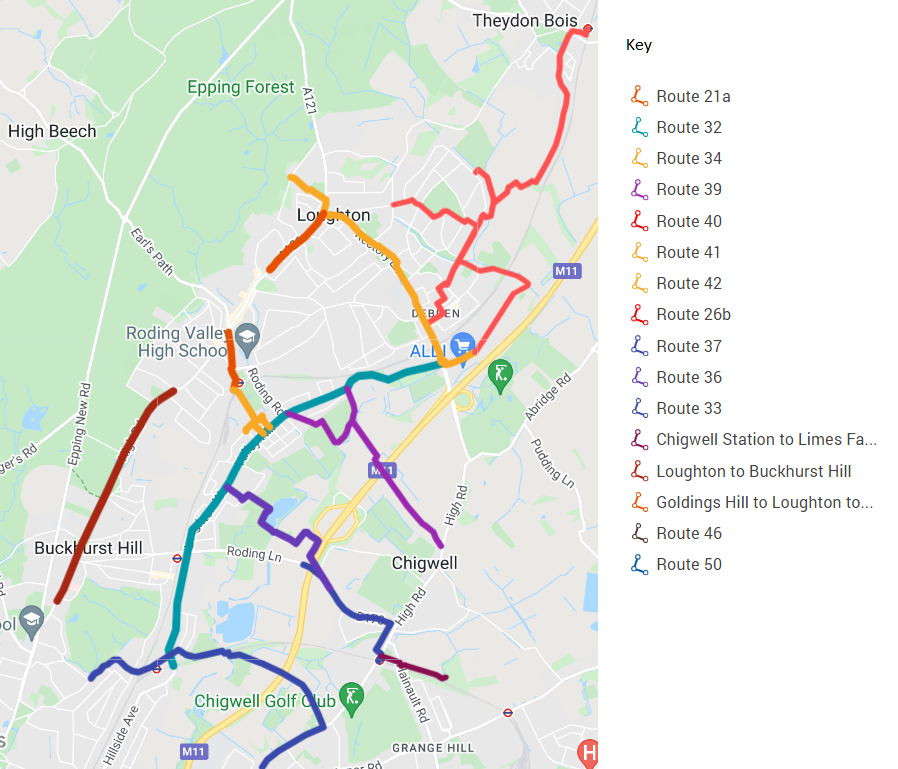 The routes shown here should not be viewed as an exhaustive list: there are routes unserved, places unreached and people left behind, but they are, in our view as experienced local cyclists and as residents, the best place to begin.
The routes are (numbered using the Cycling Action Plan scheme where possible):
21a – Loughton Station to Loughton town centre.
32 – Chigwell Lane (Debden) to Buckhurst Hill (Oakwood Hill and Valley Hill).
34 – Loughton Station to Valley Hill.
39 – Chigwell to Loughton via Roding Valley Nature Reserve.
40 – Theydon Bois to Loughton Broadway and Epping Forest Retail Park, with connecting routes for Debden Park School.
41 and 42 – Oakwood Hill to Goldings Hill, along Chigwell Lane and Rectory Lane.
Goldings Hill to Loughton Town Centre (up Church Hill).
Loughton to Buckhurst Hill (High Road).
37 – Chigwell Rise cycle route and access to Chigwell Parade and tube station with an extension to Limes Farm Estate.
We've produced a Cycle Network flyer (PDF) for our top 6 routes, and we've prepared a more detailed plan (PDF) for those routes too. Our map is also available on Google Maps.
Want to help us make these routes a reality? Get in touch